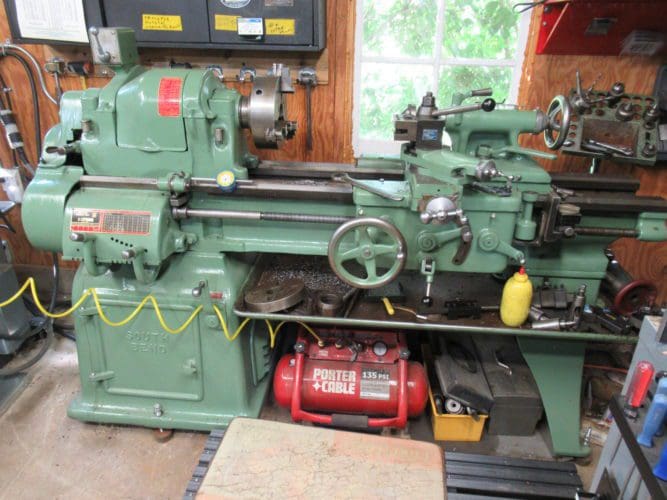 Tool Room Equipment
Bridgeport 2 HP Series I Variable Speed Ram Type Vertical Mill, s/n 12BR228807, 42" Power Feed Table, 5" Riser Under Ram, with DRO
South Bend 16"x32" Tool Room Lathe, s/n 10949HKX15, with 9" 3 – Jaw Chuck, 2 – Face Plates, Steady Rest, Inch Threading
South Bend 15"x42" Tool Room Lathe, s/n 14432TKX, with Rohm 8" 3 – Jaw Chuck, Inch Threading
South Bend 13"x48" Tool Room Lathe, s/n 109566 with 6" 4– Jaw Chuck, Inch Threading
South Bend 14"x30" Tool Room Lathe, s/n 100459, with 8" 4 – Jaw Chuck, Taper Attachment, Inch Threading
Enco 14-3/4" Model 135-1545 Vertical Band Saw, s/n 206964 with Blade Welder
Schaublin Type 70-80 Bench Lathe, s/n 7357, 4800 RPM, with Chuck
Boyar Schultz 6"x12" Model 612 Surface Grinder, s/n 12176, with Electro Magnetic Chuck
Oscar Delavaux 26" Model 52A Drill and Tapping Machine, s/n 63-18876, up to 1800 RPM
Hardinge Plain Horizontal Mill, s/n 16819 6-1/2"x26" Table, with Rusnok 5200 RPM Vertical Head
Delta Radial Drill, s/n 7-642 Mounter on T-Slot Table
Marvel Model 9A Hack Saw
Keller Bench Hack Saw
Kalamazoo Horizontal Band Saw
Rockwell Double End Bench Carbide Tool Grinder
Dayton 1 HP Double End Bench Tool Grinder
Rockwell/Delta 6" Belt/12" Disc Sander
Advance 15"x15" Compound Rotary Table
Troyke 12" Model R-12 Rotary Table, Lot 983-3, with Dividing Plate
Shop Press 50 Ton Hydraulic H-Frame Press, 25-1/2" Between Frames, on Wheels
Swag 20 Ton Hydraulic H-Frame Press, 22" Between Frames
Central 6 Ton Bench H-Frame Press
Central 16 Gauge Throatless Bench Mounted Shear
Central Pneumatic 40 LB. Floor Blast Cabinet
Weatherhead Hose Crimping System
Milwaukee Model 4802 Magnetic Base Drill
Darex Pedestal Drill Sharpener
Drill Grinder on Stand
Dumore Tool Post Grinder
Dayton Double End Buffer
Central Pneumatic C-Frame Air Press
Shop Equipment
Schumacher 2/40 Amp Charger, 100/200 Amp Starter Charger, for 6/12 Volt Batteries
Wagner ¾ HP Model 642 Pump, 45 GPM
Duro Star Model DS4000S Generator
Troy-Bilt 3800 PSI Power Washer
Porter Cable 135 PSI Oil Free Air Compressor
Performax 1.5 HP Tank Mounted Portable Air Compressor
Grizzley Model T26748 Pneumatic Grease Pump
Grizzley Model T26746 Foot Operated Grease Pump
Pittsburgh 8 Ton Engine Hoist
Pittsburgh 2 Ton Engine Hoist
Stromgway 10 Ton Hydraulic Cylinder Ram with Case
10 Ton Hydraulic Body-Frame Repair Kit
Quincy Vertical Tank Mounted Air Compressor
Misc. Shop Equipment Including Kurt Vises, Bosch Compound Miter Saw, Chicago 14" Industrial Cut-Off Saw, Cobra 40 Series Snake, Skil 10" Table Saw, Chain Saws, K&T Dividing Head with 4-Jaw Chuck, Dumore Tool Post Grinder, Routers, Welding Cart with Torch Set-Up, Rotary Tables, Arbor Presses, Air Compressor, Support Tooling and Cabinets, Fasteners, Tool Boxes, Ladders, Carts, Pallet Jacks, Fans, Stands, Jacks, Infinity Sweeper, Shop Vacs, Inspection Including Micrometers, Height Gauges, Etc.
Welders, Plasma, Table, & Collector
Miller 225 Amp Model Thunderbolt XL Welder, s/n LG364433
Eastwood 175 Amp Model Mig 175 Wire Welder, s/n 11833140504120
HTP Model 2400 Mig Welder, s/n 1216/876
Chicago 90 Amp Flux Wire Welder
Ramsond Cut 50DX Digital Inverter Air Plasma Cutter, s/n 50DX0711005000021
Ace Industrial Model 73-601 Fume Collector, s/n 0900
Fab Pro Bending Welding Table
Misc. Equipment
Skyjack 27' Model SJ7127 4×4 Elevating Scissor Lift, s/n 341484 (New 2005), 1,500 LB. Capacity, Joystick
2016 Honda Rancher 450 TRX 420 FA Four Wheel Drive Fully Automatic ATV
Pro-Series 10,000 LB. Vehicle Lift
The Complete TC-150 Tire Changer
Forest King 22 Ton Hydraulic Log Splitter s/n YTL23308
Three Point Log Splitter
Three Point Sprayer
ATV Sprayer
Troy-Bilt 6 HP Trimmer/Mower
Jacobsen 6 HP Model Imperial 626 Heavy Duty 2 Stage Snow Thrower
Bombardier All-Terrain Vehicle
1996 11' Escape Sail Boat with Minn Kota 24 LB. Thrust Model 35 Weedless Power Drop Motor, 2008 Long Chih Trailer
2 – RKI Tool Boxes
Merits Electric Scooter
2,000 LB. Gantry Crane, 148" Max. Height, 99-1/2" Min. Height, 96" Between Frames, with Chain Fall
2 – Wood Burning Stove
Pellet Burning Stove
Live Traps
Collectables
John Deere Pedal Tractor with Metal Seat, Trailer
2 – Wood Corn Shellers, 1 John Deere
2 – Schwinn Bicycles
Pickup Appointment Calendar