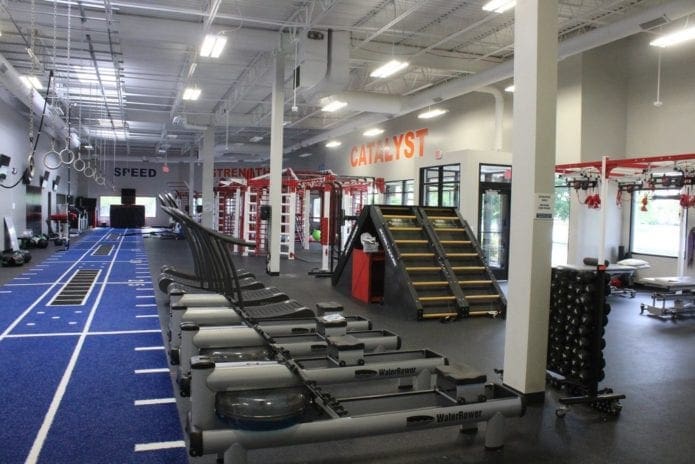 Equipment
2 – MoveStrong Systems Octagon Training Modules with Mats, Approx. 14'x14' and Work End Extension and Center Bridge
3 – MoveStrong Modular Sections with Bench
4 – Jacobs Ladders, s/n 10152 & 10150 with Digital Panel
Neurac Dual Red Cord Work Station with 2 – Armedica Elevating Tables and Accessories
4 – WaterRower Machines with Series IV Performance Monitors
4 – Woodway Manual Treadmills with Curve Digital Panel
20 – Computrainer Bike Stands with Tire Rest
9 – Race-Mate One Sensor Kits
2 – Perform Better Stands
Nautilus Stairmaster
Life Span Treadmill with Pro Series Monitor
In Body Model 570 Direct Segmental Multi-Frequency Bioelectrical Impedance Analysis, s/n G61700019
Myzone MZ-3 Heart Monitoring System
Emotion Tide 10 Kayak
2 – Earthlite Massage Tables
Sierra Massage Table
40 Yard Running Mat
Drive Sleds
Weights Including Sets From 1 Lb. to 75 Lb., Kettle Bells From 17 Lb. to 70 Lb., Plates From 10 Lb. to 55 Lb. Dumbbells, Etc.
Misc. Including 5 – Gill Hurdles, Mats, Brackwell Scale, Accessories, Etc.
Aquatics
6 – Current Training Pools, Approx. 10'x15' Inner Dimensions, Approx. 11.5'x17' Outer Dimensions, 3'6" Deep, Complete with 3 – Myrtha Pools Center Stairs, Camera System and Computer, Each with Delta CH- 2000 Vector AC Drive Power Unit, Hayward H150FDN Natural Gas Heaters, Hayward CAT2000 Controller for PH & ORP
Approx. 24'x75' Lap Pool with 4 – Ladders, Elevated Stage, Build in Lane Rope
S.R. Smith 300 Lb. Portable Battery Aquatic Lift (Appears to be Unused)
Unitronics System Controller
Filtrex Model EC225S Unit, s/n 9355-9684A
Rudd 95 Gasllon Commercial Water Heater
Raypak Model RP2100 Natural Gas Swimming Pool Heater, 406,000 BTU
Poly Sulfuric Acid Tank
250 Poly Gallon Tank
2 – Cintas External Defibrillators
Cintas First Aid Kit
Stretcher
11 – Boga Yoga Inflatable Boards
Life Rings & Assorted Accessories
Misc. Including Snorkels, Flippers, Kick Boards, Goggles, Fins, New Men's & Women's Swim Wear
Offices & Equipment
6 – High Top Tables with 4 Bar Style Chairs
2 – Barska Digital Safes
2 – Fellowes Shredders
2 – Drink Refrigerators
Epson Projector and Screen, Computers & Printers, AT&T Telephones, Flat Screen TV's & Monitors, Networking Computer Accessories and Storage Cabinet, Etc.
Misc.
Ridgid Portable Threader with Dies & Case, Werner Folding Ladder, Washer & Dryer, Etc.
Quincy 3 HP "Y-Type" Vertical Tank Mounted Air Compressor, s/n UTY900239 (New 2015) with Deltronic Compressed Air Dryer
20' Storage Container, 174 Cu. Ft., 67,200 Lb. Gross, 62,480 Lb. Net, 4,720 Tare Lb.
Pickup Appointment Calendar