Surplus of: Products In Motion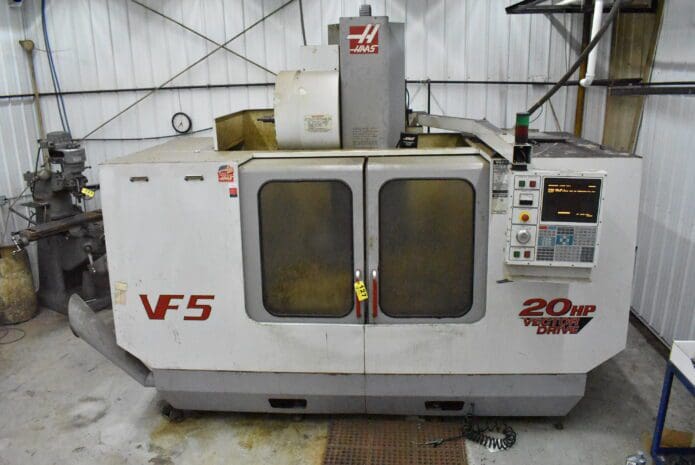 Haas Machining Centers, A&V Waterjet, Fabricating Equipment & More!
CNC Water Jet
A&V 6' X 10' Model 1006BA CNC Bridge Type Water Jet Cutting Machine, s/n 1407-019, 118" X-Axis Travel, 77" Y-Axis Travel, 6" Z-Axis Travel, 50 HP Intensifier Pump, PC Control
CNC Vertical Machining Centers & Indexers
Haas 4-Axis Model VF-5 CNC Vertical Machining Center, s/n 19194 (New 1999), 50" X-Axis Travel, 26" Y-Axis Travel, 25" Z-Axis Travel, 24 Station Side Mounted Automatic Tool Changer, 20 HP Spindle, Chip Conveyor, Wired for 4th Axis, Haas Control
Haas 4-Axis Model VF-4 CNC Vertical Machining Center, s/n 10355 (New 1997), 50" X-Axis Travel, 20" Y-Axis Travel, 25" Z-Axis Travel, 20 Station Umbrella Type Automatic Tool Changer, 15 HP Spindle, Chip Conveyor, Wired for 4th Axis, Haas Control
2 – Haas 8" 3-Jaw 4th Axis Indexers, s/n 212444 & s/n 215614
CNC Turning Center
Okuma Model LB15 CNC Turning Center, s/n 9760, 15" Swing, 19" Turn Length, with 10" 3-Jaw Chuck, Tailstock, Okuma OSP5020L Control
CNC Press Brake & Dies
LVD 185 Ton x 157-1/2" Model 180JS13 CNC Hydraulic Press Brake, s/n 22667 (New 1995), 124" Between Housings, with Autobend 7 CNC Back Gauge
Assorted Press Brake Dies
Shears
Amada 1/4" x 10' Model M-3060 Shear, s/n 30600508 (New 1987), Approx. 44" Front Operated Power Back Gauge, 2 – 135" Squaring Arms, Front Arm Support
Edwards 1/8" x 79.5" Model 3.25/2000DD Shear, s/n 74C/38001, 24" Manual back Gauge, 2 – Front Arm Supports
Saws
HEM 12-3/4" x 12-3/4" Model H90A-B/F Automatic Horizontal Band Saw, s/n 474195 (New 1987)
DoAll Model C-9AV Automatic Horizontal Band Saw, s/n 297-74157, up to 24" Feed Selector
DoAll 16" Model 1612-0 Vertical Band Saw, s/n 208-63241, with Blade Welder
Safety Speed 48" Vertical Panel Saw with 12' Horizontal Travel
Craftsman Miter Saw with Laser Trac
Toolroom Machines
Grizzly 14"x40" Model Gunsmith Toolroom Lathe, s/n 4-54, 1225 Spindle RPM, with 3-Jaw Chuck, Inch/MM Threading, Jingce Model JCS900-2AE DRO
Bridgeport 1 HP "J-Head" Ram Type Vertical Mill, s/n 12BR75437, 36" Power Feed Table, Mitutoyo DRO
Misc. Machines
Burlington 36" Model SP36X55HD Top Belt Pass Thru Sander, S/N 86181
DEA 3-Axis Model Swift Coordinate Measuring Machine
Miller 300 Amp Model 302 Deltaweld Welder, s/n LC237695, with 60 Series Model 24V Wire Feed
Wilton Scissor Arm Tapper Mounted on 36"x72" Steel Table, with Taps
30" Disc Sander
Atomic 30 KVA Type AR Spot Welder, s/n 1021, 12" Throat
Trinco Blast Cabinet s/n 33350 with Collector
Craftsman Table Saw. s/n 113-27610
2 – Craftsman 17" Drills, 1-1/2 HP, s/n XY140302253 & n/a
Craftsman 15" Drill, 1 HP
20" Abrasive Cut-Off
Delta Double End Pedestal Tool Grinder
Plant Equipment
Large Quantity CNC Tool Holders, Taps, Milling Cutters, Turning Inserts, End Mills, Drills, Drill Index Sets, Micrometers, Inspection, Vises, C-Clamps, Etc.
Anver 1200 LB. Model VPF-57-AC Suction Lift, 6' x 10' Lift Capacity
2 – Vidmar 7 Drawer Tool Storage Cabinets
10 Drawer Tool Storage Cabinet
Cutler-Hammer 150 KVA Transformer, s/n J08G05983 (New 2008) 480 Volt Primary, 240 Volt Secondary
Optima 48"x48" Electronic Platform Scale with Model OP-902 Weighing Indicator
Welding Table with Vise and Under Storage
Continental 5 HP Hydraulic Pump & Tank
10 HP Tank Mounted Air Compressor
Husky Tool Box*Welding Cart with Gauges & Hoses*Wire Baskets*Pallet Racks*Pallet Jacks*Ladders*Engine Hoist*Arbor Presses*Belt Sanders*Etc.
Material Handling
Yale 4,000 LB. Model ERC040FCN36SD083SR Electric Forklift Truck, s/n 396340, 130" Max. Lift, Side Shift, Battery Charger
Clark Model C60 LP Gas Forklift Truck, s/n C60-350-938, Dual Mast, 2732 Hours on Meter
Hyster LP Gas Forklift Truck, 2082 Hours on Meter
Burke Electric Scissor Lift
Pickup Appointment Calendar