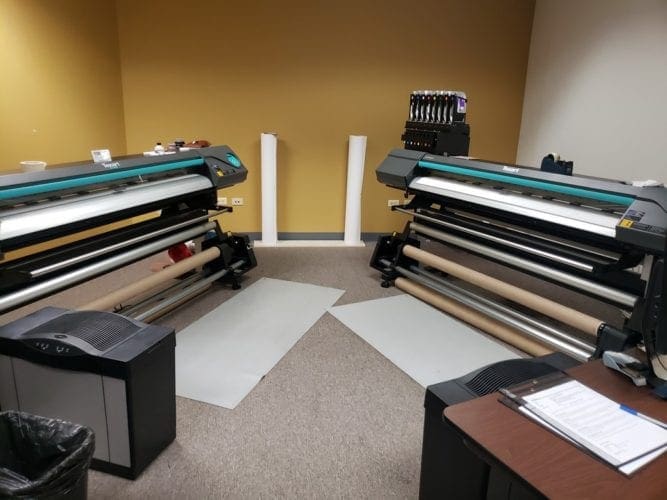 Roll to Roll Rotary Heat Press, Roland Texart Die-Sub Printers, Large Qty of Fabric Inventory, Much More!
Roll to Roll Rotary Heat Press
Advanced Innovative 60" Model 7360IJO Series Roll to Roll Rotary Heat Press, s/n 3760615 (New 2015), Self-Contained Oil Heated Drum with Digital Heat Control, 3-Unwind Stations, Adjustable Tension, 3-Rewind Stations, Separately Controlled Speed and Tension, 8" Diameter Drum, "S" Wrap Bars
Belt Dryer
M&R Model S2000-60-12 Sprint Natural Gas Modular Belt Dryer, s/n 090040944S, 16' Infeed, 90" Take-Off, with Exhaust
Printers
2 – Roland 64" Model Texart RT-640 Dye-Sublimation Transfer Printers, s/n KC10513 (New Approx. 2016) & s/n KBY0198 (New Approx. 2012), 8 Color
Epson 44" Model Stylus Pro 9880 Large Format Printer, s/n JZ20008957, 8 Color
2 – Xante Model FilmMaker 5 Computer to Film Printers
Zebra Model ZP500 Plus Label Printer
Zebra Model ZP450 CTP Label Printer
Fabric Inventory
Approx. 24,000 Yards Fabric Inventory of Non-Wrinkle, Machine Wash & Dry, Flame Retardant Fabric Material Consisting of White, Black, and 19 Additional Colors (To Be Offered in Bulk at the Start of The Sale and Individual Rolls of Colors Later in the Sale)
Sewing Machines
2 – Juki Series MO-6900 Sewing Machines, s/n 2MOVK00655 & S/N 2MOVK00656 with Table
Juki Series DDL8700 Industrial Sewing Machine, s/n 2DOXF00606 with Table
Singer Model 660 A202 Sewing Machine, s/n FA336113 with Table
Developing Equipment
AWT Prolight Model PLS-J298UVS-26 Exposure Unit, s/n 139010
Poly-Lite 48"x72" Exposure Unit, s/n JD62875
Frame Cleaning & Frames
Custom Enclosed 24"x60" Frame Cleaning Unit with In/Out Track, 4096 Hours on Meter
Custom Enclosed 24"x40" Frame Cleaning Unit
2 – Frame Wash Booths
Large Quantity of Aluminum Frames
Plant Equipment
Quincy 10 HP Model QTV-10-120AM Vertical Tank Mounted Air Compressor, s/n UTZ651831
Speedaire Vertical Tank Mounted Air Compressor
Misc. Including Pallet Jacks, Material Carts, Portable Air Compressor, Bench Scale, Ladders, Hand Truck, Fans, Wood Display Tables, Folding Tables, 2 Door Flammable Storage Cabinet, Water Heater, Refrigerator, Microwaves, Etc.
Offices
2 – Aircare Units, Assorted Desks, File Cabinets, PC Computers, Printers, Etc.
Pickup Appointment Calendar