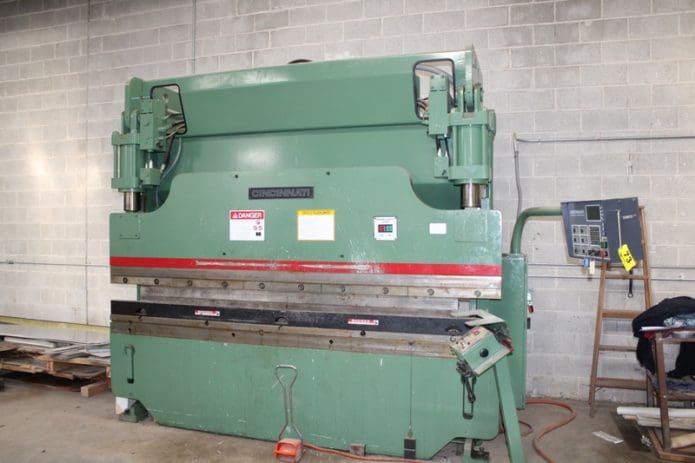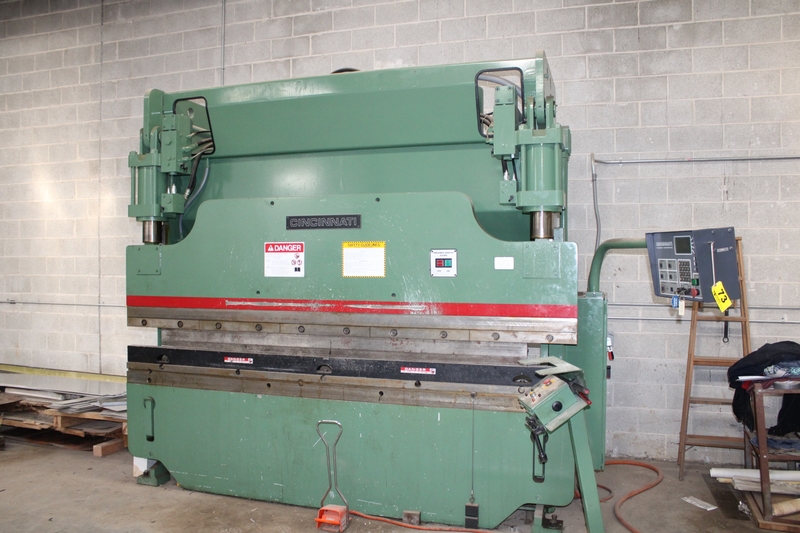 Late Model Fabricating & Machine Shop Equipment
Press Brake
Cincinnati Model 90 CB II 90 Ton x 8' Press Brake S/N 50644, With Cincinnati Control
Toolroom Machines & Accessories
Bridgeport 1-1/2 HP Variable Speed Ram Type Vertical Mill, s/n 12BR114528, 42" Power Feed Table
Bridgeport 1-1/2 HP Variable Speed Ram Type Vertical Mill, s/n 12BR131484, 42" Table, DRO
South Bend 15"x36" Toolroom Lathe, s/n 11489HKR15, 10" 3-Jaw Chuck, Inch Threading, Taper Attachment
Okamoto 6"x12' Model PFG-612 Surface Grinder, s/n 611, with Electro Magnetic Chuck, Walker Chuck Control
Sunmax 6"x18" Model SGS-618 Surface Grinder, s/n 8302056, with Permanent Magnetic Chuck
Clausing 20" Model 2286 Drill, s/n 524695, Mounted on Production Work Table
T-Jaw 20" Model T-500 Vertical Band Saw, s/n 50122, with Blade Welder
Wellsaw Model 56B Horizontal Bandsaw, s/n 21794
Enco 8" Disc/1" Belt Model 163-4512 Sander, s/n 8310
Milwaukee 1 HP Double End Tool Grinder
Assorted Vises*Jacobs Chucks*Die Filer*Bench Tool Grinders*Demagnetizer*Harig No.1 Grind-All, Hand Tools*Power Tools* Granite Surface Plate* Inspection*Etc.
CNC Turret Punches
Strippit 30 Ton Model Fabri-Center 1000S CNC Turret Punch, s/n 1012013190, 33 Punch Stations, with GE Fanuc Control
Strippit 30 Ton Model Fabri-Center 1000R CNC Turret Punch, s/n 182013093, 20 Punch Stations, with PC Control
Large Assortment of Turret Punches & Holders
Vidmar 7 Drawer Cabinet
Nu-Era 9 Drawer Cabinet
Plant Equipment
Clark 3,000 LB. Model C30B LP Gas Forklift Truck, s/n 1044-399, 106" Max. Lift
Miller 200 Amp Model Millermatic 210 Wire Feed Welder, s/n LG191471B, with Cables & Tank
Ingersoll-Rand 25 HP 3 Stage Model 30T Tank Mounted Air Compressor, s/n 30T-545806
25 HP "Y-Type Tank Mounted Air Compressor
Airtek Air Dryer
No Mark Model 5 Stud Welder
Miller Thunderbolt Welder
Hydraulic H-Frame Press, 24" Between Housings
Industrial Equipment 1/2 Ton Portable A-Frame, 12' Between Frames, Adjustable Height, Electric Hoist
Torit Model 64 Dust Collector, s/n L3983
Graymills Parts Washer
Assorted Press Brake Dies up to 12' in Length
Propane Tanks*Ladders*Cabinets*Office Furniture*Etc.
Pickup Appointment Calendar