Service & Rebuilder of W.A Whitney Machines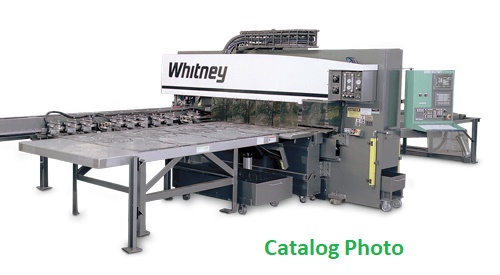 Tremendous Offering Of Whitney Equipment & Parts from a Nationwide Whitney Repair and Rebuild Facility
W.A Whitney Parts, Controls, & Tooling
Large Quantity of New/Used/Refurbished W.A. Whitney Parts for 790 Beam Lines, Anglematics, 661's, 647's, 3400's, 3500's, 3700's, Ball Screws, Main Cylinder Parts, Cylinder Rams, Ram Extensions, Barrels, Rebuilt Quills, Strippers, Machine Shop Equipment, Fabricating Equipment, with Portables, Etc.
Punches & Dies for W.A. Whitney 28XX/36TC & Ironworkers
W.A. Whitney 36TC Tooling
Large Quantity of Fanuc and GE 2000 Boards, Motors, Drives, Etc.
W.A. Whitney Machines & Hypertherm Power Supplies
W.A. Whitney 40 Ton 60"x120" Model 3400 RTC CNC Plasma Punch, s/n 680-850-43282, 11 Station Automatic Tool Changer, Refurbished with Ways, Way Bearings, New Ball Screws, Cylinder Assembly, Bolster, with Additional Too Rack and Tooling, GE Fanuc Series 16-F Control
W.A. Whitney 50 Ton Model 653-50 CNC Fabricator Punch, s/n 653-185-25855, 48" Throat, Rebuilt Cylinder Heavy Duty Table, PC-800 Control
W.A. Whitney 50 Ton Model 650 Fabricator Punch, s/n 652-160-40055, 36" Throat, Assorted Tooling
W.A. Whitney 100 Ton Model 793-421 C-Frame Hydraulic Punch, s/n 793-421-31582-3, 30" Throat (Taken From Beam Line)
W.A. Whitney 6"x6"x1/2" Model 609-000 Hydraulic Angle Shear, s/n 5157, 40 HP Hydraulic Power Unit
Power Units for W.A. Whitney 3400/3500/3700 Models
Several Hypertherm HT2000, Max 200, and LHF Power Supplies
Toolroom Machines
Bridgeport 2 HP 3-Axis Series 1 CNC Variable Speed Ram Type Vertical Mill, s/n 12BR235147, 42" Table, Proto Trak EMX 3-Axis Control
Bridgeport 2 HP Series 1 Variable Speed Ram Type Vertical Mill, s/n 12BR201021, 42" Power Feed Table, 7" Riser Under Ram, Power Draw Bar, DRO
Warner & Swasey No. 2A Model M-510 Saddle Type Turret Lathe, S/N 530852, 16" 3 Jaw Chuck, Turret Tooling, Preselector Head, 3-3/4" Hole Thru Spindle
Logan 12"x36" Model 2557-V Lathe, s/n 67509, 6" 3-Jaw Chuck
Grob 18" Vertical Band Saw, Blade Welder
Ramco Model RS-90P Horizontal Band Saw, s/n 08394
Boyar Schultz 6"x12" Surface Grinder, s/n 8360, Electro Magnetic Chuck, Dust Collector Base
Clausing 15" Model 1752 Drill, s/n 118234
Enco 20" Model 126-2235 Drill, s/n 2156
Rockwell/Delta 6" Belt/12" Disc Sander
Trinco Model 36 Dry Blast Cabinet with Collector
Rockwell 10" Contractors Table Saw
Craftsman Table Saw, s/n RJS-39
Darex Drill Sharpener
Plant Equipment
Quincy Approx. 25 HP Tank Mounted Air Compressor
Quincy 15 HP Approx. Model M373012VC Vertical Tank Mounted Air Compressor, s/n 5114025
Deltech Air Dryer
Pennsylvania 20,000 LB. Electronic Floor Scale, 48"x48" Platform, with Readout
Sonsource Engineering 30 HP Model 530101-4-97667 Hydraulic Pump Unit, s/n 001025-2-2
10 HP Hydraulic Pump Unit
2 – 8 Drum Dust Collectors with Blower
Storage Container
Troy-Bilt 24" Gas Snow Thrower
Hay Rack (Recently Rebuilt)
Inspection*Motors*Tool Cabinets*Spare Power Units*Hand & Power Tools*Hydraulic Jacks*Clamps*Power Cords*Air Lines*Flammable Storage Cabinets*Paint Shaker* Wire*Assorted Steel Stock*Pallet Racks*Chains*Slings*Magnets*Conveyors*Etc.
Vehicles
2000 Chevrolet Model 3500LS 4X4 Dually Pick-Up Truck, VIN: 1GCHC33J4YF46134, Crew Cab, Automatic Transmission, 5th Wheel, Approx. 277,000 Miles on Odometer
Artic Cat Model 1265 Gas Utility Vehicle, with Doors, Manual Tilt Bed, Snow Plow, Approx. New 2007, 1266 Hours on Meter
Pickup Appointment Calendar