Guerin College Preparatory High School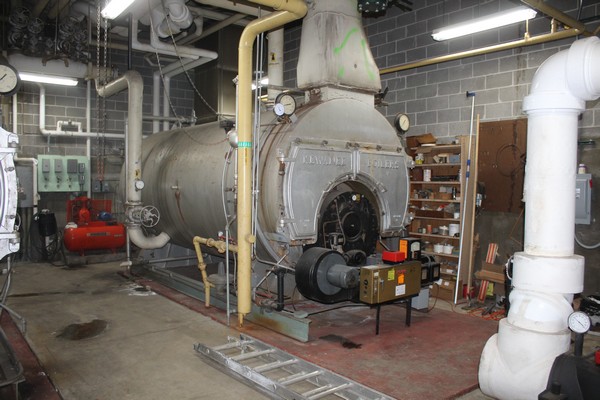 Building being demolished. Everything sells. Excellent Scrap Opportunity!
Natural Gas Boilers
Kewanee Model RGF-60F Natural Gas Boiler, s/n CRG1842, 9000M/BTU
Kewanee Model S12-G-50 Natural Gas Boiler, 6300MBH
Air Conditioning Unit
Carrier Model 23XRV4242NRVAA5 Chiller, s/n 74809, with Model 4607Q74809 Compressor, Comfort Network Control
Pumps
2 – Bell & Gossett 200 HP Pumps, s/n 2236208 & 2236209
2 – Armstrong 30 HP Pumps
2 – Armstrong 20 HP Pumps
HVAC Drives
6 – Yaskawa Model E7 HVAC Drives
Air Compressor
Devilbiss 3 HP Model UDN-5045 Tank Mounted Air Compressor, s/n 13228DH
Electrical
Square D 500 KVA 3 Phase General Purpose Transformer, Catalog No. 36349-27112-063, 480 HV, 208Y/120 LV
Siemens 400 Amp Type S4 Breaker
Eaton and Cutler Hammer Electric Breakers
Water Heaters
3 – AO Smith Water Heaters
Floor Scrubber
Nobles Model Power Eagle 1020 Electric Floor Scrubber
Gym
Bleachers and Basketball Back Boards
Misc. Equipment
Including Power Tools, Stainless Steel Tables, 2 – Walk In Cooler Doors, 4 Door Refrigerator, Sinks, Gerrick 6 Door Refrigerator, Hobart Q3 Refrigerator, Garland 6 Burner Stove with 2 Ovens and Broiler, Stainless Steel Serving Counters, Kenmore Dishwasher, Doors, Chairs, Library, Theater Seats, Theater Lighting, Lockers, Church Pews, Organ, Overhead Projectors, AV Equipment, 16' Garage Door, Etc.
Pickup Appointment Calendar