Machinery & Equipment Surplus To
Brenco Machine & Tool, Inc.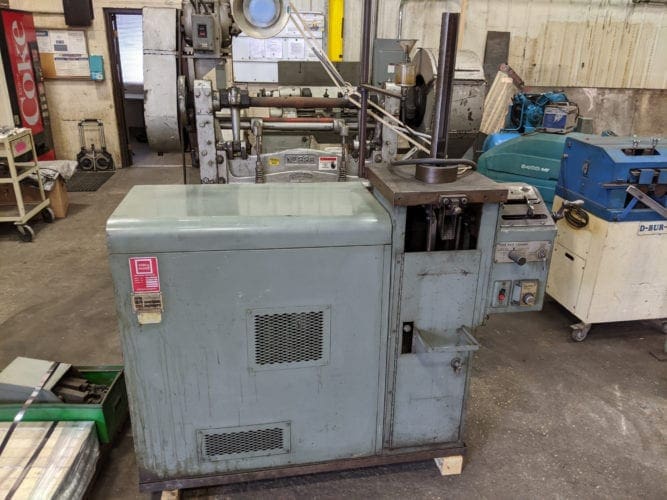 Featuring Toolroom Machinery & Equipment
CNC Vertical Mills & Accessories
Shizuoka Mode; AN-S CNC Vertical Mill, s/n 61232, 13" x 51" Table, 25 Station Automatic Tool Changer, Dynapath Delta 10 Control
Dah Lih Model DL-NC3 CNC Vertical Mill, s/n 13" x 50" Table, Anilam 3000M Control
Assorted CNC Tool Holders
Keyseater
Mitts & Merrill No. 2 Model FRD-KS Hydraulic Keyseater, s/n KM-755 with Assorted Tooling
Grinders
Norton 12" x 24" Model N24VAI Hydraulic Surface Grinder, s/n 240062, with Permanent Magnetic Chuck
Cincinnati 24" x 48" Universal Hydraulic Cylindrical Grinder, s/n 3U4E5DN-1, with Drop Down Internal Grinding Attachment, Chuck, Steady Rest
Tool Room Machines & Accessories
Wells-Index 3 HP Model 860 Horizontal/Vertical Mill, s/n 16715, 48" Power Feed Table, 3 HP 4200 rpm Horizontal Spindle, Bridgeport 2 HP Series I Vertical Milling Head
Bridgeport 1 HP "J-Head" Ram Type Vertical Mill, s/n 12BR65551, 42" Table
Logan Model 1955H Cabinet Base Turret Lathe, s/n 86393, with 3-Jaw Chuck, Inch Threading
Bardons & Oliver No. 3 Universal Ram Type Turret Lathe, s/n 13130, with Chuck, 4-Way Tool Post, Turret Tooling
Walker Turner 20" Drill with Chuck
Baldor Double End Pedestal Carbide Tool Grinder
Misc. Equipment Including Machine Vises, Rotary Tables, Hand Tools, Power Tools, Drill Chucks, Diving Head, Press Dies, Punches, Etc.
Saws & Cut-Offs
Wilton Model 8510 Automatic Horizontal Band Saw, s/n 9002742
Amada Model HA250 Automatic Horizontal Band Saw, s/n 456436
3 HP Cut-Off
Fabricating Machines
National 10 Gauge x 52" Model NH5210 Shear, s/n 255-1293, with 57" Squaring Arm, 2-Front Supports, 27" Manual Back Gauge
Niagara 12 Gauge x 36" Model 636 Shear
Whitney Jensen 72" Finger Brake with Assorted Fingers
National 12 Gauge x 48" Model U6-4812 Finger Brake with Fingers
Misc. Machines
Niagara No. 3 OBI Press, s/n 22566
Hypertherm Model Max43 Plasma Cutter, s/n MX43-006645
Sunnen Model MBB-1600-MS Precision Honing Machine, s/n 40346
Plant Equipment
Gardner Denver 20 HP "y-Type" Tank Mounted Air Compressor
Automan 5 HP Model AT7 Tank Mounted Air Compressor
Leroi 5 HP "Y-Type" Tank Mounted Air Compressor
5 hp Vertical Tank Mounted Air Compressor
Reliance 20 HP, 1780 RPM, 256T Frame Motor
Baldor 20 HP, 1760 rpm, 256T Frame Motor
Misc. Plant Equipment Including Crane Chains, Slings, Electric Hoists, Ladders, Wood Top Steel Leg Benches, Cantilever Racks, Cabinets, Coke Pop Machine, Offices, Etc.
Scrap Steel
Large Quantity of Stainless, Steel Burn Shape Cutting Drops, Bar stock, Etc.
Pickup Appointment Calendar