By Order of the United States Bankruptcy Court, Northern District of Illinois, Case Number 22-02613
Banner Equipment Co. – Day 1 – Machinery & Equipment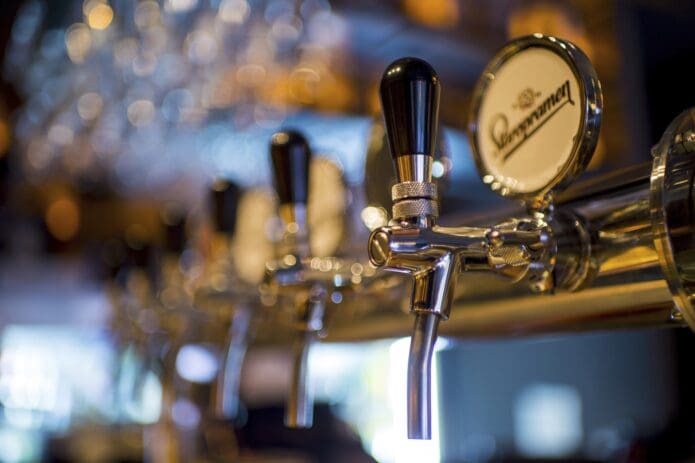 Tremendous Multi-Day Sale of a Premier Custom Beverage Dispensing Equipment Manufacturer, Equipment & Inventories & More!
Equipment
Bridgeport ½ HP Round Overarm Vertical Mill, s/n 8307
Hoffman/Rex 50 KVA Style WAM-3 Spot Welder, s/n 2485, 15" Throat
Abex Denison 6 Ton Model RO65 C-Frame Hydraulic Press, s/n 22259
Enco 15" Planer
Benchmaster 7.5 Ton Model 754 OBI Press, s/n 6943
Grizzly 24" Sander
18 Station Hydraulic Turret Punch
Burr King 2" Bench Belt Sander
American 2,500 LB. Model 60 Motorized Uncoiler, s/n 6944 5/77
Wel-Bilt 42" Roller and Brake
Wel-Bilt 4 Ton 6"x6" Manual Angle Shear
Rockwell ½ HP Double End Tool Grinder and Buffer
Wilton 4" Belt/8" Disc Sander
Double End Buffer
Rockwell 15" Drill, s/n 1642137
Hypneumat Horizontal Drill
Assorted Drills
Saws
Greenlee 9-1/2"x11" Model 1399 Horizontal Band Saw, s/n V435-00547
Jet 14" Model JBS-HMW Vertical Band Saw, s/n 40930
Rockwell 16" Table Saw
MSC 7" Model 9518879 Horizontal Band Saw, s/n 872516
Jet Semi-Auto Cold Saw, s/n 316037
Jet Horizontal Band Saw
2 – Dewalt Miter Saws
Makita 12" Miter Saw
Assorted Pallet Jacks
Plant Equipment
Vtech Model 201PD Refrigeration Charging Station
Appion Model G5 Twin Refrigerant Recovery Unit
2 – Quincy 5 HP Model QT-5 Vertical Tank Mounted Air Compressors, s/n 5091239 & 150933-633
Gardner Denver 20 HP Horizontal Piston Air Compressor with Air Receiving Tank
Advance Model Aquaclean 18 Electric Floor Scrubber
Yard Machines 5HP/24" Snow Thrower
Justrite 2 Door Flammable Storage Cabinet
Large Quantity Hand and Power Tools
Vises*Work Benches*Fittings*Scales*Box Stapler*Shop Vacs*Ladders*Hand Trucks*Fans*Etc.
Pallet Racks
9 – Sections 12'x24" Deep x Approx. 12' High Adjustable Pallet Racks with 8 Cross Members Per Section
9 – Sections 12'x24" Deep x Approx. 8' High Adjustable Pallet Racks with 6 Cross Members Per Section
4 – Sections 10'x24" Deep x Approx. 10' High Adjustable Pallet Racks with 12 Cross Members Per Section
3 – Sections 12'x24" Deep x Approx. 12' High Adjustable Pallet Racks with 10 Cross Members Per Section
3 – Sections 12'x24" Deep x Approx. 6' High Adjustable Pallet Racks with 6 Cross Members Per Section
Assorted Knocked Down Pallet Racks and Cross Members
Material Handling
Caterpillar 3,500 LB. Model GC18 LP Gas Forklift Truck, s/, 2EM04779, 131" Max. Lft, Side Shift, 19,497 Hours on Meter
JLG 19' Model 1932E Electric Scissor Lift
Raymond 4,000 LB. Model 20-R40TT Electric Standing Forklift Truck, s/n 20-R40TT-77-13133, 181" Max. Lift
Clark 3,000 LB Model ST-40B Electric High Stacking Floor Walker, s/n ST-245-0593-PM-6235, 154" Max. Lift
Plant Equipment
10 – Sections 26" Roller Conveyor
5 – Safety Ladders, 5-6-9 and 11 Step
Large Quantity Adjustable Shelving
Office
Konica Minolta Bixhub 600 Copier
Vehicles
2003 Chevrolet Model 2500 Cargo Van, VIN: 1GCFG25T131159094, Automatic Transmission, Approx. 167,000 Miles on Odometer
1996 Chevrolet Model 30 Box Body Truck, VIN: 1GBHG31K5TF117983, Automatic Transmission, 14' Box Body, 4-Tire Rear Axle, Approx. 57,700 Miles on Odometer
Pickup Appointment Calendar