Air Distribution Associates, Inc.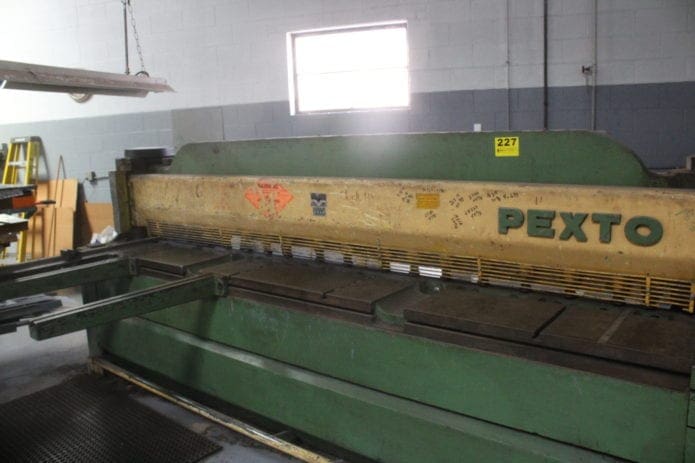 Press Brake
Dreis & Krump 60/90 Ton Model 1012L Press Brake, s/n L-19649, 12' Overall Bed & Ram, with Lower Die Holder, Hurco Model Autobend 6 Back Gauge
Shears
Pexto 10 Gauge x 10' Model 10-U-10B Shear, s/n 742323, with 8' Squaring Arm, 2 Front Supports
Pexto 10 Gauge x 10' Model 10-U-10B Shear, s/n 740812, with 10' Squaring Arm, 24" Manual Back Gauge
Liebert 36" Model 1036 Hi-Speed Nibbler/Shear, s/n A8254
Bending Roll
Wysong 14/16 Gauge x 60" Model B-60 Initial Type Bending Roll, s/n PR18-172
Sheet Metal Equipment
Amada 8-5/8"x8-5/8" Model CSW-220 Hydraulic Corner Notcher, s/n 563491, 1/8" Capacity, with Edge Notch
Lockformer 20 Gauge Lockformer, s/n 4414
Lockformer 22 Gauge Cleatformer, s/n 10666
2 – 36" Bench Power Roller/Beader/Crimper Mounted on Opposite End of 44"x14' Table
Dreis & Krump 60" Model W35 Finger Brake, s/n 83386 with Fingers
Tennsmith 18 Gauge x 8' Model 11B97 Apron Brake, s/n 06201
Lockformer 24" Vertical Band Saw
24" Cleat Former with Support Table
14" Manual Bender
Welder/Plasma & Support Equipment
Lincoln 300 Amp Model Idealarc CV-300 Welder, s/n AC752936
Duro Dyne Model PBFS14 Pin Welder, s/n 54018
Hypertherm Model Powermax Plasma Cutter
Lincoln Model LN-7 Wire Feed
Acorn 5'x8' Welding Table
Misc. Equipment
Chicago Model 912 Riveter, s/n 912-9455-SS
Chicago Model MD-500 Riveter, s/n 449-251-68
Interlake Model 1120P Wire Stitcher, s/n B29043
Rockwell 15" Model 15-017 Drill, s/n 1631351
Forklifts
Hyster 3,200 LB. Electric Forklift Truck, s/n N/A, Triple Mast, with Scale and Battery Charger, 7351 Hours on Meter
Allis Chalmers 5,000 LB. Model F50-24PS LP Gas Forklift Truck, s/n 65186, 106" Max. Lift, with Scale
Plant Equipment
Assorted Plant Equipment Including Set of Hillman Machine Skates, Power Tools, Hand Tools, Heavy Duty Carts Tables, Job Boxes, Chains, Slings, Crane Scale, Bar Clamps, Vise Clamps, Ladders, Etc.
Pickup Appointment Calendar