American Mfg & Machining, Inc.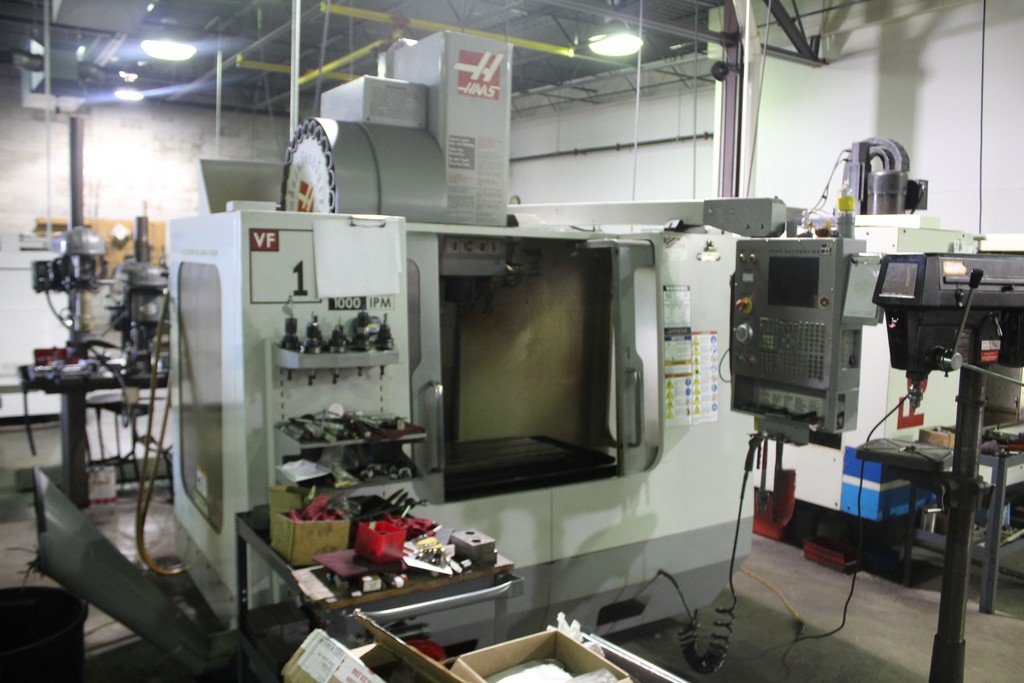 Complete CNC Metal Working Facility
CNC Vertical Machining Centers & Accessories
Haas Model VF-1B CNC Vertical Machining Center, s/n 47018 (New 2006), 20" X-Axis Travel, 16" Y-Axis Travel, 20" Z-Axis Travel, 10,000 RPM Spindle, 30 HP 2 Speed Gear Drive, 24 Station Automatic Tool Changer, Haas Control
Fadal Model VMC2216 (904) CNC Vertical Machining Center, s/n 012002024070 (New 2002), 22" X-Axis Travel, 16" Y-Axis Travel, 20" Z-Axis Travel, 10,000 RPM Spindle, 20 Station Automatic Tool Changer, Fadal Multiprocessor Control
Tree Model VMC1050/24 CNC Vertical Machining Center, s/n 9-20-93-1088, 40" X-Axis Travel, 20" Y-Axis Travel, 25" Z-Axis Travel, 7,000 RPM Spindle, 24 Station Automatic Tool Changer, Dynapath Delta Control
2 – Tree Model VMC760/20 CNC Vertical Machining Centers, s/n 9-16-94-1088 & 9-16-94-1029, 22" X-Axis Travel, 16" Y-Axis Travel, 22" Z-Axis Travel, 8,000 RPM Spindle, 4th Axis Drive, 20 Station Automatic Tool Changer, Dynapath Delta Control
Haas Indexer, s/n 506997
Large Quantity Cat 40 Toolholders & Several Tool Carts
CNC Turning Centers, CNC Lathe & Bar Feed
Haas Model SL-10 CNC Turning Center, s/n 69777 (New 2005), 6,000 RPM Spindle, Tool Presetter, Haas Control
Haas Model 300 Servo Bar Feed, s/n 91481 (New 2005) Currently on Haas SL-10
Haas Model SL-20T CNC Turning Center, s/n 62868 (New 2000), 3-Jaw Chuck, Tailstock, Haas Control
2 – Okuma Model Cadet LNC8 CNC Turning Centers, s/n D226 & C339, with 3-Jaw Chuck, Tailstock, 4,000 RPM Spindle, IGF Function, Okuma OPS 5020L Control
Standard-Modern 17"x60" Model 1760 CNC Lathe, s/n 12105MM, 3 & 4 Jaw Chucks, Anilam Series 1200 Control
Hardinge Model CHNC CNC Chucker, s/n CN-4317-T, with GE Fanuc OT Control, Hardinge Har-Matic Bar Feed
CNC Tapping Center
Brother Model TC-227 CNC Tapping Center, s/n 111529, 10 Station, Brother CNC-520 Control
CNC Vertical Mill
Tree Model Journeyman 350 CNC Vertical Mill, s/n 9-35-94-1005, 10"x38" Table, Dynapath Delta Control
Vertical Mills
Bridgeport 2 HP Series 1 Variable Speed Ram Type Vertical Mill, s/n 12BR189186, 42" Power Feed Table, DRO
DoAll 2 HP Model GPM-200V Variable Speed Ram Type Vertical Mill, S/N 1212499-C, 42" Power Feed Table
Surface Grinder
Acer 12"x24" Model AGS-1224AHD Hydraulic Surface Grinder, s/n 97060501, with Electromagnetic Chuck, Outside Hydraulics
Saws
Marvel Series 8 Model Mark II Universal Vertical Band Saw, s/n 826871
Drills
Arboga 20" Model A59 Drill, s/n 67266, T-Slot Table
Delta 17" 4-Spindle Drill with 3-Procunier Tapping Heads, Production Table
Delta 17" 4-Spindle Drill, Production Table
Toolroom Machines
DoAll 13"x48' Toolroom Lathe, s/n 0256850-163, 2500 RPM Spindle, Inch/MM Threading, 3-4-6 Jaw Chucks, Collet Closer
Sunnen Model MBB-1600 Precision Honing Machine, s/n 41220 with Hone Tooling Separately Available
Beere Tipshear
Plant Equipment
Large Quantity Steel & Aluminum Bar Stock
Atlas Copco 15 HP Model GX11FF Screw Type Air Compressor, s/n CAI296769 (New 2008), 19,633 Hours on Meter
10 HP "Y-Type" Tank Mounted Air Compressor
Pneumatech Model ADA-40 Turbo V Dryer, s/n 9301-T1-886-ST
Trinco Model 36/BP Shot Blast Cabinet, s/n 63718-06
Mr Deburr Deburring Mill
Ranch King Pro 16.5 HP/42" Riding Lawn Mower
Murray 8 HP/24" Electric Start Snow Thrower
Misc. Plant Equipment Including Safety Kleen Parts Washer*Vises*Collets*Arbor Press*Belt & Disc Sanders*Carbide Double End Tool Grinder*Double End Tool Grinders*Lista Tool Cabinets*Ladders*Cantilever Racks*C-Clamps*Hand Trucks*Etc.
Inspection
Brown & Sharpe Model Microval Coordinate Measuring Machine, s/n 110383, 21-1/2"x29-1/2" Granite Table, Renishaw TP1S Probe, Micro Measure III Software
Deltronic 14" Model DH214 Optical Comparators, s/n 259114336, with 612-R DRO
Deltronic 14" Model DH214 Optical Comparators, s/n 229062846, with MPC-4 DRO
Acco Wilson Model 3JR Rockwell Hardness Tester, s/n 12477-981
Sunnen 2"-6" Model CF-1126 Gage Setting Fixture
Sunnen 0-2" Model CF-502 Gage Setting Fixture
Material Handling
Hyster 4,000 LB Model 40C LP Gas Forklift Truck, s/n CC02D17341U, 167.5" Max. Lift, 4402 Hours on Meter
Vestil 1,000 LB. Lift
Economy Electric Lift
Offices
Xerox Model XC830 Copier*Desks*File Cabinets*Drafting Table*Conference Table*Chairs*File Cabinets*Etc.
These Terms may be superseded by those posted at sale site, and / or announced by auctioneer.
All bidders at this sale agree that they have read and have full knowledge of these terms and agree to be bound thereby.
1. IDENTIFICATION: All purchasers are required to register and give full name, address and credit card information.
2. DEPOSIT: Bidders must post a deposit upon registration or post a deposit upon becoming a successful bidder. We MUST have a deposit of 25% of all winning bids throughout the sale. All deposits and payments must be made in cash, credit cards or certified funds
3. PAYMENT: Invoices must be paid in full day of the sale unless otherwise specified. A BUYER'S FEE / PREMIUM WILL BE APPLIED TO INVOICE IN ADDITION TO THE SALES PRICE.
FOR BUYERS PAYING WITH CASH OR CERTIFIED FUNDS. THIS FEE AMOUNT WILL REPRESENTS A 3% DISCOUNT FROM ALL OTHER FORMS OF PAYMENT. SALES TAX MAY APPLY WITHOUT PROPER BUYER EXEMPTION.
Business and Personal checks will not be accepted without a letter of guarantee from your bank similar to below.
(Your Bank Name) unconditionally guarantees payment to us from (Your Company Name) up to the amount of $ __________ . This guarantee will be valid for purchases made at the auction of (Auction Name) on (Auction date). NO MERCHANDISE WILL BE RELEASED UNTIL INVOICE IS FULLY PAID.
4. REMOVAL: All purchases MUST be removed as listed:
Purchases may be removed only on presentation of paid bill. Removal shall be at the expense, risk and liability of the purchaser. Auctioneer shall not be responsible for goods not removed within the time allowed, but shall have the option to remove and store at the expense and risk of the purchaser any article purchased, but not paid for and removed within the time aforesaid. Buyers with items left on site after deadline are subject to fines of $500 per day. ALL ITEMS MUST BE OFF THE PREMISES BY POSTED DEADLINE at which time our representative will leave the premises. All items remaining after this time WILL BE considered abandoned.
5. MANNER OF PAYMENT: All deposits and balances due shall be payable to the order of us. All bills must be paid to us. All payments must be made by Cash, Credit Cards, Cashier's Check, Wire Transfer or Company Check with Bank Letter of Guarantee. The full purchase price on all lots sold to the same buyer must be paid in full within 48 hours of the auction closing date and before removal of any of the goods.
6. CONDITION OF ARTICLES SOLD: Neither the auctioneer nor the seller shall be responsible for the correct description, genuineness, authenticity of, or defect in any lot, and makes no warranty in connection therewith. No sale shall be set aside nor allowance made on account of any incorrectness, error in cataloging, or any imperfection not noted. ALL ARTICLES ARE EXPOSED FOR PUBLIC EXHIBITION & INSPECTION, AND SOLD "AS IS", "WHERE IS" AND WITH ALL FAULTS, AND WITHOUT RECOURSE. ARTICLES ARE NOT WARRANTED AS MERCHANTABLE OR FIT FOR ANY PARTICULAR PURPOSE, AND NO CLAIM MAY BE MADE BY PURCHASER RELATING TO THE CONDITION OR USE OF ARTICLES PURCHASED OR FOR PROXIMATE OR CONSEQUENTIAL DAMAGES ARISING THEREFROM.
7. SAFETY DEVICES: Articles purchased may not incorporate approved activating mechanisms, operating safety devices or safety guards, as required by OSHA or otherwise. It is purchaser's responsibility that articles purchased are so equipped and safeguarded to meet OSHA and any other requirements before placing such articles into operation.
8. INDEMNIFICATION: Purchaser shall defend and indemnify and hold auctioneer and seller harmless from and against all claims and liabilities relating to the condition of, removal of, or use of the articles purchased or failure of user to follow instructions, warnings or recommendations of the manufacturer, or to comply with federal, state, and local laws applicable to such articles, including OSHA requirements, and Environmental Protection Agency requirements, or for proximate or consequential damages, costs or legal expenses arising there from.
9. CLAIMS: NO CLAIMS WILL BE ALLOWED AFTER REMOVAL OF GOODS FROM PREMISES OR LEFT ON PREMISES PAST ALLOWED TIME LIMIT.
10. RESPONSIBILITY FOR NON-DELIVERY: Neither the auctioneer nor the seller, in any event, shall be liable for non-delivery or for any other matter or thing, to any purchaser of any lot, other than for the return to the purchaser of the deposit or sum paid on said lot, should the purchaser be entitled thereto.
11. COMPLIANCE WITH TERMS OF SALE: In default of payment of bills in full within the time therein specified, the auctioneer in addition to all other remedies allowed by law, may retain all monies received as deposit or otherwise, as liquidated damages. Lots not paid for and removed within the time allowed herein may be resold at public or private sale without further notice, and any deficiency, together with all expenses and charges of resale including legal fees, will be charged to the defaulting purchaser.
12. RISK TO PERSON AND PROPERTY: Bidder acknowledges that an auction site is a potentially dangerous place with noxious, corrosive and pressurized substances being present, heavy equipment being operated and electric circuits being live. Every person at the auction site before, during and after the auction sale shall be deemed to be there at their own risk with notice of the condition of the premises, the activities on the premises and the conduct of third parties and the Bidder shall so advise his agents and employees. For this reason, we do not allow anybody under the age of 18 to attend, nor do we allow non-service animals. No person shall have any claim against the Auctioneers, their agents, employees or principals for any injuries sustained nor for damages to or loss of property which may occur from any cause whatsoever.
13. CONTRACT MOVERS: If purchaser wishes to hire or contract with a machinery mover, rigger or other type of outside contractor, WE WILL NOT ALLOW them to work on these sale premises unless they have placed with the auctioneer PROPER INSURANCE protecting US and the people or company that the auctioneers are conducting the sale for against any or all claims arising from personal injury and/or property damage created by their actions. This requirement is for the auctioneer's protection – NOT FOR THE PURCHASER'S therefore the auctioneer suggests that the purchaser review the insurance policies of the machinery mover regarding the coverage that they have protecting the purchaser and damage or loss of the equipment they may be moving for the purchaser.
14. ADDITION TO OR WITHDRAWAL FROM SALE: The auctioneer reserves the right to withdraw from sale any of the property listed or to sell at this sale property not listed, and also reserves the right to group one or more lots into one or more selling lots or to subdivide into two or more selling lots. Whenever the best interest of the seller will be served, the auctioneer reserves the right to sell all the property listed, in bulk.
15. SALE BY ESTIMATED WEIGHT, COUNT OR MEASURE: When items are sold by estimated weight, count or measure, the purchaser will be billed for and required to pay for the estimated weight, count or measure. If, upon delivery, any shortage exists, the purchaser will receive a refund at the rate of purchase. If there be an excess, the purchaser will be required to take and pay for such excess, at the rate of purchase. (See Paragraph 3 for time and Guarantee Limitation.)
16. DISPUTE BETWEEN BIDDERS: If any dispute arises between two or more bidders, the auctioneer may decide the same or put the lot up for sale again, and resell to the highest bidder. The auctioneer's decision shall be final and absolute.
17. RESERVE: The auctioneer reserves the right to reject any and all bids. On lots upon which there is a reserve, the auctioneer or his assigned agents, shall have the right to bid on behalf of the seller.
18. RECORDS: The record of sale kept by the auctioneer and bookkeeper will be taken as final in the event of any dispute.
19. INDEPENDENT CONTRACTOR: The auctioneer is acting as an independent contractor only and is not responsible for the acts of its principals or sellers.
20. BREACH: Without limiting other remedies, we may limit your activity, immediately remove your bids or Item listings, warn our community of your actions, issue a warning, temporarily suspend, indefinitely suspend or terminate your membership and refuse to provide our services to you if: (a) you breach this Agreement; (b) we are unable to verify or authenticate any information you provide to us; or (c) we believe that your actions may cause financial loss or legal liability for you, our Users or us.