A & L Manufacturing Co., Inc.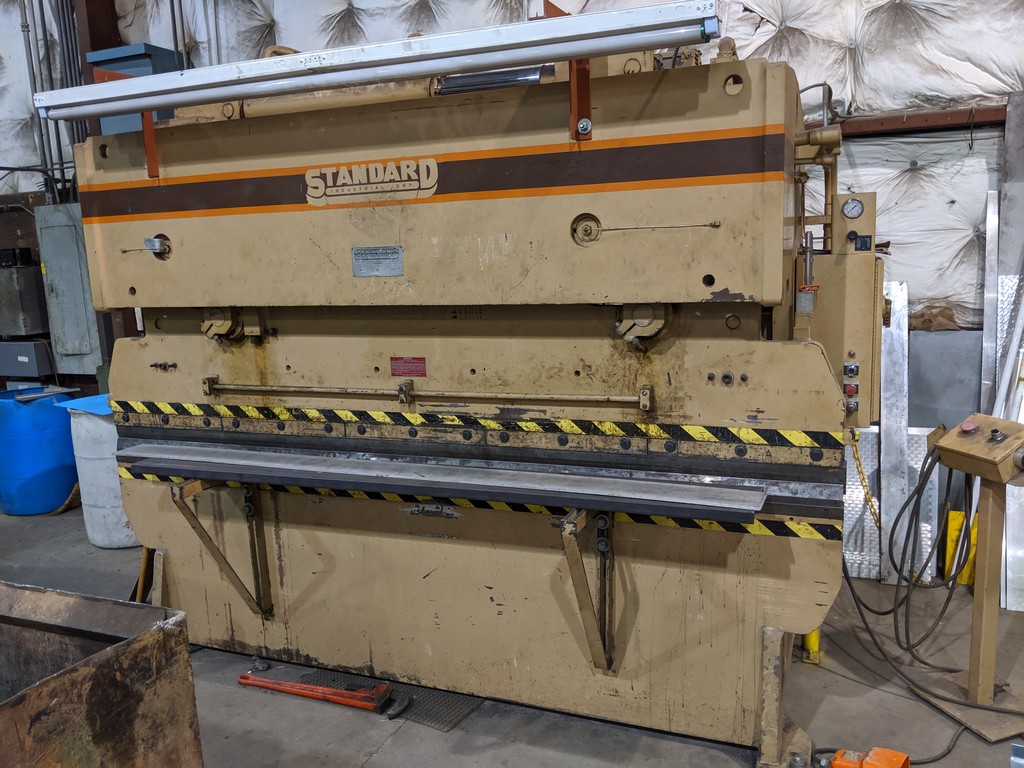 SHEAR
ATLANTIC MODEL HDS 10′ X 1/2″ HYDRAULIC SHEAR S/N: 68223 With Squaring Arm, Adjustable Ball Top Sheet Supports
PRESS BRAKES
STANDARD MODEL AB 100-10 100 TON X 10′ HYDRAULIC PRESS BRAKE
SAWS
TRENNJAGER MODEL PMC8 26″ UP CUT HYDRAULIC COLD SAW S/N: 8-1/2″ Cutting Height, 24″ Cutting Length
KALAMAZOO MODEL H9AW HORIZONTAL METAL CUTTING BAND SAW S/N: 3487
WELDERS & PLASMA CUTTERS
ESAB MODEL 352CV MIG WELDER S/N: WH-1901067
ESAB MODEL 352CV MIG WELDER
ESAB MODEL 352CV MIG WELDER S/N: WH-1903004
ESAB MODEL 352CV MIG WELDER S/N: WH-1901064
ESAB MODEL 250 MIGMASTER WELDER S/N: MARJ201055
ESAB MODEL 250 MIGMASTER WELDER S/N: MARJ201054
ESAB MODEL 252/26 TIGMASTER WELDER S/N: TLJ322011
ESAB MODEL 250 PLUS MIGMASTER WELDER S/N: MCJ331024
MILLER MODEL MILLERMATIC 350P MIG WELDER S/N: LJ400655B
MILLER MODEL DYNASTY 350 TIG WELDER S/N: LK3702326
HYPERTHERM MODEL PMX900 POWERMAX 900 PLASMA CUTTER S/N: 900019919
ESAB MODEL 280 PRO MIGMASTER WELDER S/N: 163371638
LINCOLN MODEL 256 POWER MIG WELDER
HYPERTHERM MODEL MAX 20 PLASMA CUTTER
DELTA MODEL 23-700 10″ BENCH TOP WET/DRY GRINDER
LINCOLN MODEL IDEALARC 250 AC/DC WELDER
HOBART MODEL HANDLER PORTABLE WELDER
MILLER MODEL TRAILBLAZER 275DC PROPANE WELDER S/N: LGO02236
MILLER MODEL BOBCAT 250 LP WELDER S/N: MF340433R
MILLER MODEL BOBCAT 250 LP WELDER S/N: MF340434R
HOBART MODEL CHAMPION 145 WELDER GENERATOR S/N: MG050430R
THREADERS
LANDIS MODEL THREADER S/N: 581-04024 With Stand, Assorted Dies
RIDGID MODEL 535 PIPE THREADER S/N: 354-305 With Stand
MAG BASE DRILLS
G & J HALL MODEL POWERBOR 320 PB320 MAG BASE DRILL
G & J HALL MODEL R401 1-1/2″ MAG BASE DRILL
DIAMOND PRODUCTS MODEL M-4 CORE DRILL Weka Dk1203 Motor
MULTIQUIP MODEL CDM1H CORE DRILL
JANCEY MODEL 101 SLUGGER MAG BASE DRILL S/N: 011C-013260
JANCEY MODEL 101 SLUGGER MAG BASE DRILL S/N: 011C-012501
RUKO MODEL RS10 MAG BASE DRILL S/N: 150107
AIR COMPRESSORS
INGERSOLL RAND MODEL T30 VERTICAL TANK MOUNTED AIR COMPRESSOR
KELLOG AMERICAN MODEL 331 TANK MOUNTED AIR COMPRESSOR S/N: 38812
CHAMPION MODEL HGR6-3 12.5 HP AIR COMPRESSOR S/N: 3619519591
OBI PRESS
BLISS MODEL 21-S 45 TON OBI PRESS S/N: H-34328/HP-17893 With Assorted Pipe Notching Dies
FORKLIFT TRUCKS
HYSTER MODEL H60XM 6,300 LB LPG FORKLIFT TRUCK S/N: D177B44218V Three Stage Mast, 181.5″ Max Lift
HYSTER MODEL H50XM 5,000 LB LPG FORKLIFT TRUCK S/N: H177B21067X
SCISSOR LIFT
JLG MODEL 265 SCISSOR LIFT
LAWN TRACTOR
MTD MODEL 760-770 GAS POWERED LAWN TRACTOR
ASSORTED FABRICATING EQUIPMENT
EVERETT 12″ MITERING SAW
HECK MODEL 8000 BEVEL-MILL SHAPE BEVELER
HECK MODEL BEVEL-MILL SHAPE BEVELER
MILWAUKEE MODEL 6101 1/2″ RIBBON SANDER / BAND FILE
HARDIN MODEL HPG-331 PIPE POLISHER
STRAT-O-FLEX PIPE STRAIGHTENER
POWERMATIC MODEL 30 COMBINATION DISC / BELT SANDER
MISC EQUIPMENT
TOPCON MODEL GTS-303-D TOTAL STATION THEODOLITE With Case
GRACO MODEL ULTRAMAX II PAINT SPRAY SYSTEM
CHAMPION PORTABLE HEATER
VERMETTE MODEL 520 PORTABLE MATERIAL LIFT
ENERPAC MODEL PORTA-POWER HAND PUMP
DIETZGEN MODEL 6183 ZERO-SITE AUTO-TRANSIT LEVEL S/N: 535108
TONE MODEL STC 7AE ELECTRONIC TORQUE WRENCH S/N: E079043
SKIDMORE WILHELM MODEL MSI03 BOLT TENSION CALIBRATOR S/N: 14881
AUTOTRAX STAND UP SCREW GUN
GOLO MODEL 1-1200A-AD-15-R11 POWER WINCH S/N: 4828
WILLIAMS MODEL TM-290 UNIVERSAL TORQUE MULTIPLIER
CHICAGO PNEUMATIC MODEL 6100 PNEUMATIC IMPACT WRENCH
CRAFTSMAN MODEL 900.275131 IMPACT WRENCH
BLACKHAWK 2 TON HYRDRAULIC JACK
CP UTICA MODEL 548 PNEUMATIC CHIPPING HAMMER
BOSCH MODEL VAC090A DUST ESCTRACTOR
PORTER MODEL K750 GAS POWERED CONCRETE SAW
PORTER MODEL K750 GAS POWERED CONCRETE SAW
HONDA MODEL EU3000I PORTABLE GENERATOR S/N: EAVJ-1003120
These Terms may be superseded by those posted at sale site, and / or announced by auctioneer.
All bidders at this sale agree that they have read and have full knowledge of these terms and agree to be bound thereby.
1. IDENTIFICATION: All purchasers are required to register and give full name, address and credit card information.
2. DEPOSIT: Bidders must post a deposit upon registration or post a deposit upon becoming a successful bidder. We MUST have a deposit of 25% of all winning bids throughout the sale. All deposits and payments must be made in cash, credit cards or certified funds
3. PAYMENT: Invoices must be paid in full day of the sale unless otherwise specified. A BUYER'S FEE / PREMIUM WILL BE APPLIED TO INVOICE IN ADDITION TO THE SALES PRICE.
FOR BUYERS PAYING WITH CASH OR CERTIFIED FUNDS. THIS FEE AMOUNT WILL REPRESENTS A 3% DISCOUNT FROM ALL OTHER FORMS OF PAYMENT. SALES TAX MAY APPLY WITHOUT PROPER BUYER EXEMPTION.
Business and Personal checks will not be accepted without a letter of guarantee from your bank similar to below.
(Your Bank Name) unconditionally guarantees payment to us from (Your Company Name) up to the amount of $ __________ . This guarantee will be valid for purchases made at the auction of (Auction Name) on (Auction date). NO MERCHANDISE WILL BE RELEASED UNTIL INVOICE IS FULLY PAID.
4. REMOVAL: All purchases MUST be removed as listed:
Purchases may be removed only on presentation of paid bill. Removal shall be at the expense, risk and liability of the purchaser. Auctioneer shall not be responsible for goods not removed within the time allowed, but shall have the option to remove and store at the expense and risk of the purchaser any article purchased, but not paid for and removed within the time aforesaid. Buyers with items left on site after deadline are subject to fines of $500 per day. ALL ITEMS MUST BE OFF THE PREMISES BY POSTED DEADLINE at which time our representative will leave the premises. All items remaining after this time WILL BE considered abandoned.
5. MANNER OF PAYMENT: All deposits and balances due shall be payable to the order of us. All bills must be paid to us. All payments must be made by Cash, Credit Cards, Cashier's Check, Wire Transfer or Company Check with Bank Letter of Guarantee. The full purchase price on all lots sold to the same buyer must be paid in full within 48 hours of the auction closing date and before removal of any of the goods.
6. CONDITION OF ARTICLES SOLD: Neither the auctioneer nor the seller shall be responsible for the correct description, genuineness, authenticity of, or defect in any lot, and makes no warranty in connection therewith. No sale shall be set aside nor allowance made on account of any incorrectness, error in cataloging, or any imperfection not noted. ALL ARTICLES ARE EXPOSED FOR PUBLIC EXHIBITION & INSPECTION, AND SOLD "AS IS", "WHERE IS" AND WITH ALL FAULTS, AND WITHOUT RECOURSE. ARTICLES ARE NOT WARRANTED AS MERCHANTABLE OR FIT FOR ANY PARTICULAR PURPOSE, AND NO CLAIM MAY BE MADE BY PURCHASER RELATING TO THE CONDITION OR USE OF ARTICLES PURCHASED OR FOR PROXIMATE OR CONSEQUENTIAL DAMAGES ARISING THEREFROM.
7. SAFETY DEVICES: Articles purchased may not incorporate approved activating mechanisms, operating safety devices or safety guards, as required by OSHA or otherwise. It is purchaser's responsibility that articles purchased are so equipped and safeguarded to meet OSHA and any other requirements before placing such articles into operation.
8. INDEMNIFICATION: Purchaser shall defend and indemnify and hold auctioneer and seller harmless from and against all claims and liabilities relating to the condition of, removal of, or use of the articles purchased or failure of user to follow instructions, warnings or recommendations of the manufacturer, or to comply with federal, state, and local laws applicable to such articles, including OSHA requirements, and Environmental Protection Agency requirements, or for proximate or consequential damages, costs or legal expenses arising there from.
9. CLAIMS: NO CLAIMS WILL BE ALLOWED AFTER REMOVAL OF GOODS FROM PREMISES OR LEFT ON PREMISES PAST ALLOWED TIME LIMIT.
10. RESPONSIBILITY FOR NON-DELIVERY: Neither the auctioneer nor the seller, in any event, shall be liable for non-delivery or for any other matter or thing, to any purchaser of any lot, other than for the return to the purchaser of the deposit or sum paid on said lot, should the purchaser be entitled thereto.
11. COMPLIANCE WITH TERMS OF SALE: In default of payment of bills in full within the time therein specified, the auctioneer in addition to all other remedies allowed by law, may retain all monies received as deposit or otherwise, as liquidated damages. Lots not paid for and removed within the time allowed herein may be resold at public or private sale without further notice, and any deficiency, together with all expenses and charges of resale including legal fees, will be charged to the defaulting purchaser.
12. RISK TO PERSON AND PROPERTY: Bidder acknowledges that an auction site is a potentially dangerous place with noxious, corrosive and pressurized substances being present, heavy equipment being operated and electric circuits being live. Every person at the auction site before, during and after the auction sale shall be deemed to be there at their own risk with notice of the condition of the premises, the activities on the premises and the conduct of third parties and the Bidder shall so advise his agents and employees. For this reason, we do not allow anybody under the age of 18 to attend, nor do we allow non-service animals. No person shall have any claim against the Auctioneers, their agents, employees or principals for any injuries sustained nor for damages to or loss of property which may occur from any cause whatsoever.
13. CONTRACT MOVERS: If purchaser wishes to hire or contract with a machinery mover, rigger or other type of outside contractor, WE WILL NOT ALLOW them to work on these sale premises unless they have placed with the auctioneer PROPER INSURANCE protecting US and the people or company that the auctioneers are conducting the sale for against any or all claims arising from personal injury and/or property damage created by their actions. This requirement is for the auctioneer's protection – NOT FOR THE PURCHASER'S therefore the auctioneer suggests that the purchaser review the insurance policies of the machinery mover regarding the coverage that they have protecting the purchaser and damage or loss of the equipment they may be moving for the purchaser.
14. ADDITION TO OR WITHDRAWAL FROM SALE: The auctioneer reserves the right to withdraw from sale any of the property listed or to sell at this sale property not listed, and also reserves the right to group one or more lots into one or more selling lots or to subdivide into two or more selling lots. Whenever the best interest of the seller will be served, the auctioneer reserves the right to sell all the property listed, in bulk.
15. SALE BY ESTIMATED WEIGHT, COUNT OR MEASURE: When items are sold by estimated weight, count or measure, the purchaser will be billed for and required to pay for the estimated weight, count or measure. If, upon delivery, any shortage exists, the purchaser will receive a refund at the rate of purchase. If there be an excess, the purchaser will be required to take and pay for such excess, at the rate of purchase. (See Paragraph 3 for time and Guarantee Limitation.)
16. DISPUTE BETWEEN BIDDERS: If any dispute arises between two or more bidders, the auctioneer may decide the same or put the lot up for sale again, and resell to the highest bidder. The auctioneer's decision shall be final and absolute.
17. RESERVE: The auctioneer reserves the right to reject any and all bids. On lots upon which there is a reserve, the auctioneer or his assigned agents, shall have the right to bid on behalf of the seller.
18. RECORDS: The record of sale kept by the auctioneer and bookkeeper will be taken as final in the event of any dispute.
19. INDEPENDENT CONTRACTOR: The auctioneer is acting as an independent contractor only and is not responsible for the acts of its principals or sellers.
20. BREACH: Without limiting other remedies, we may limit your activity, immediately remove your bids or Item listings, warn our community of your actions, issue a warning, temporarily suspend, indefinitely suspend or terminate your membership and refuse to provide our services to you if: (a) you breach this Agreement; (b) we are unable to verify or authenticate any information you provide to us; or (c) we believe that your actions may cause financial loss or legal liability for you, our Users or us.