CMC Tool & Manufacturing Co.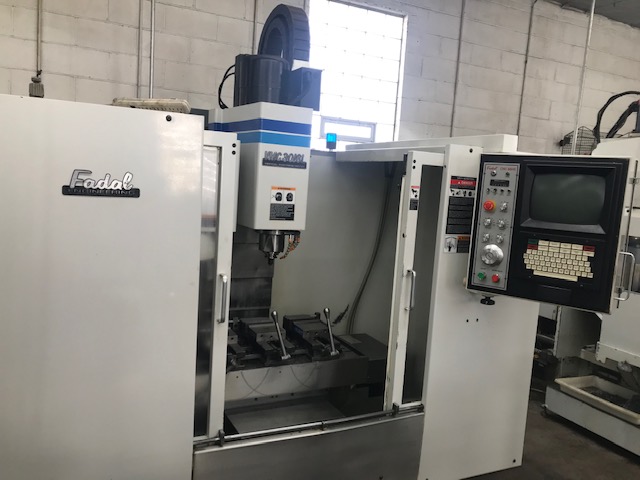 CNC Vertical Machining Centers
Fadal 3-Axis Model VMC3016L (904-1l) CNC Vertical Machining Center, s/n 9803838, 30" X-Avis Travel, 16" Y-Axis Travel, 20" Z-Axis Travel, 20 Station Automatic Tool Changer, Coolant, Fadal CNC 88HS Control
Kiwa 3-Axis Model Exvelcenter-4 CNC Vertical Machining Center, s/n E30713, 31.5" X-Axis Travel, 17.7" Y-Axis Travel, 21.6" Z-Axis Travel, 16 Station Automatic Tool Changer, Coolant, Fanuc 10M Control
CNC Chucker
Hardinge Model CHNC III CNC Chucker, s/n C3-114, GE Fanuc Series 18-T Control
Vertical Mills
Bridgeport 2 HP Series I Variable Speed Ram Type Vertical Mill, s/n 12BR214281, 42" Power Feed Table
Lathes & Chucker
Leblond 15"x54" Model Regal Tool Room Lathe, s/n 11C142, 1800 Spindle RPM, Inch/MM Threading, with 9" 3-Jaw Chuck, 2 Face Plates, 2 Steady Rests, Collet Closer
Hardinge Model DSM-59 Second Operation Lathe, s/n DV59-15012, Black Box Variable Speed Control, Turret, Lever Cross Slide
Hardinge Model HC Chucker, s/n HC8108T, Power Feed to Carriage
Horizontal Band Saw
Peerless 10"x10" Type HB-1010NC Automatic Horizontal Band Saw, s/n C904079 with Automatic Programmable Stock Feed
Misc. Machines
Enco 32" Model 130-5610 Bench Brake, s/n 2102
Sunnen Model MBB-560lr Precision Honing Machine
Central Pneumatic Blast Cabinet, s/n 367821648
Coldgrind Carbide Bench Tool Grinder
Dayton 8" Double End Pedestal Tool Grinder
Inspection
Mitutoyo 14" Model PH350 Optical Comparator, s/n 50193. With 10X Lens, Surface & Profile Illumination
Starrett 24" No. 755 Digital Height Gauge
Micrometers*Height Gauges*Pin Gauge Sets*Etc.
Plant Equipment
Yale Electric High Stacking Floor Walker
Airflow Systems Mini-Pac Portable Air Cleaner
Devair 5 HP Model TAPV-5052 Vertical Tank Mounted Air Compressor, s/n 426540H
5 HP Vertical Tank Mounted Air Compressor
Kurt Vises*Yuasa Super Spacer*Famco No. 1-1/2R Arbor Press*1" Belt Sander*Cantilever Rack*Perishable Tooling*Ladders*Work Benches*Power Tools*Hand Tools*Craftsman Bench Drill*Safety Ladder*Stools*Assorted Steel*Etc.
Pickup Appointment Calendar